Students Champion the United Nations Global Goals at FrogAsia Conference
Kuala Lumpur 28 May 2016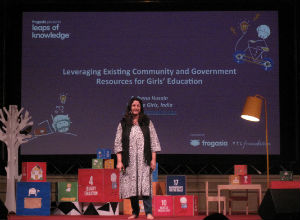 Kuala Lumpur, May 28, 2016
It was all systems go at the Leaps of Knowledge conference presented by FrogAsia and sponsored by the YTL Foundation, held in the JW Marriott Hotel, Kuala Lumpur. Over 500 secondary school students were inspired to make a difference through the Global Goals for Sustainable Development, a United Nations initiative aimed at eradicating poverty, reducing inequalities and addressing climate change.
"At today's event, we want Malaysian students to believe that they can meet global needs to make a difference and reimagine their world! By listening to amazing speakers and meeting like-minded individuals, we are providing an experience to inspire Malaysian students to apply themselves to real-world problems and think critically and creatively," said Lou Yeoh, Executive Director of FrogAsia.
Titled "Your World ReimaginED", the conference opened with energetic and inspiring keynotes from three world-class speakers with a track record in social change. Safeena Husain, Founder and Executive Director at Educate Girls, spoke about her experiences with gender inequality and shared her perspective on the importance of breaking the cycle of prejudice once and for all. John-Son Oei, Founder and CEO of Malaysian social enterprise Extraordinary People Impacting Community (EPIC) shared how EPIC works to ensure that to ensure that every Orang Asli has safe modern housing as a home, and how that means so much more than four walls and a roof. d'Arcy Lunn of Teaspoons of Change shared his stories on travelling the world and demonstrated how students might turn good intentions into actions.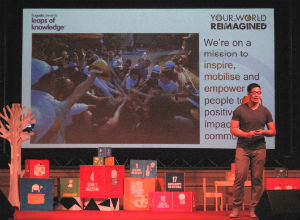 Students also took part in workshops and an exciting carnival designed to teach them more about solving real world issues through problem solving. Led by MaGIC (Malaysia Global Innovation and Creativity Centre) Social Entrepreneurship, students were engaged in a series of interactive workshops where they learned skills needed to develop ideas for social change and turn them into a reality. The ballroom at the JW Marriott was also reimagined to house challenge-based 'Carnivals' where students were able to take part in exciting games while learning about all seventeen Global Goals. Also at the Carnival were social enterprises, TOMS and Batik Boutique, who shared with students how they made a difference to communities locally and globally through their work.
Reflecting FrogAsia's commitment to empowering students for social change, the Vinnie Chan Award was launched at the conference. Named after a colleague who passed away from dengue in 2015, a disease the Global Goals seeks to eradicate, the Vinnie Chan Award honours individuals or groups that have made a difference in their community by championing the Global Goals. Recipients, who are to be announced in November 2016, will receive a M.A.D (Make a Difference) Pot of RM1,000 which will be used to further the students' cause as they run projects in support of the Global Goals.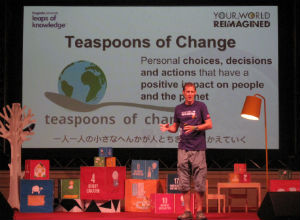 The event ended with a rousing sing-along led by singer-songwriter Atif Z in a song brimming with hope for a better tomorrow. Atif Zulkifly, known professionally as 'Atif Z', is a passionate supporter of making a difference through the power of music.
"Your World ReimaginED" is the latest conference in the Leaps of Knowledge series of conferences that aim to inspire and empower Malaysians to be agents of change, especially through the use of technology and the Internet. Education is key to transforming mindsets and FrogAsia is passionate about doing this by bringing some of the world's leading educationalists, technologists, thinkers and personalities to the Malaysian stage.