Tan Sri Dato' Seri Dr. Yeoh Tiong Lay awarded International Federation of Asian and Western Pacific Contractor's Associations Lifetime Membership
The Master Builder's Journal 16 May 2016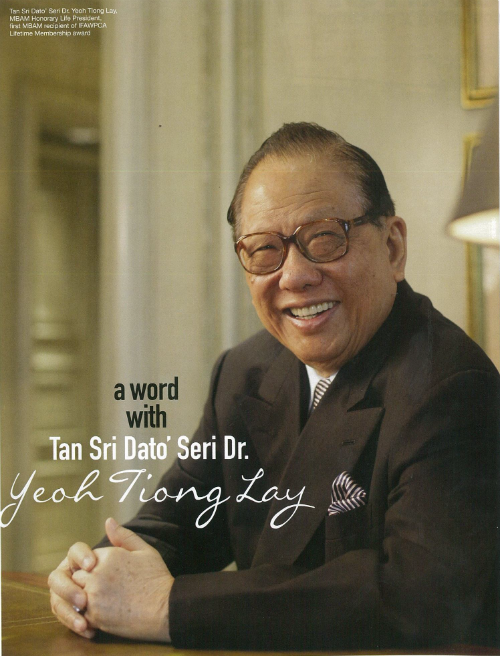 The Master Builders Journal (MBJ), Issue 102: Vol. 1/2016
Being a renowned contributor and driving force behind the construction industry of Malaysia, Tan Sri Dato' Seri Dr. Yeoh Tiong Lay is no stranger to the construction industry. His years of dedication as President of MBAM, and having served in various capacities within the industry have certainly gained him enormous recognition, respect and even admiration.
MBAM recently had the opportunity to gain a little more insight into his thoughts and views of not only his involvement with the International Federation of Asian and Western Pacific Contractors' Associations (IFAWPCA) but also a little on the other aspects of the construction industry.
What does being the first Malaysian to be awarded the prestigious IFAWPCA Lifetime Member Award mean to you?
I am genuinely overwhelmed that my peers in the Federation have honoured me in this manner. It is an incredible accolade and I am very thankful. Needless to say, it is humbling to be the first Malaysian to be recognized. But I dare not claim to be a trailblazer. Our country has many brilliant builders and contractors who are dedicated to their profession. They are already making heads turn with their craft. I prefer to share this accolade with all of them and let this award serve as an encouragement to all that our country's construction industry is being taken notice of.
How did you get involved with IFAWPCA? What drove you to continue your commitment to the Federation all these years?
I could still remember how excited I was attending my first convention in 1963 in Tokyo, organized by OCAJI. Then, I was a 35 year old young building contractor who just wanted to learn from the world's best and improve himself. But very quickly, I came to realise that IFAWPCA is not only a community of builders and contractors who excelled in their professions, but folks who actually believe in their purpose of making a real difference in our world using the construction industry as a vehicle. That got me really passionate about IFAWPCA and why I have not stopped being committed to it since my first convention.
Were there any "hot" or controversial issue(s) that needed to be managed during your Presidency? If yes, how did it impact IFAWPCA?
In all honesty, there were no controversial issues in-house. But, I was the IFAWPCA President in the 1980s, when the entire construction industry faced serious challenges, not least, the volatile world economy. My efforts as President were focused on trying to get everyone sharing their experiences, learning from each other and perhaps, working together, so that we could weather the storms at home and abroad. It was also my desire to see greater uniformity in terms of ethics and standards throughout the construction industry. I should say that the Members were very receptive and supportive of these efforts.
How did you balance managing your work at YTL, your efforts with IFAWPCA and contributing to MBAM's growth as President of MBAM? Were there any sacrifices that had to be made?
Sure, my involvement in both IFAWPCA and MBAM took a lot of time and work, especially when we were organizing and coordinating local and international events. Things had to be tight – like finances. So the committee members and I had to absorb a lot of the work ourselves. And please remember, this was before the days of emails, mobile phones, iPads and professional event planners. Yet, at the conclusion of every event, we just forgot about the sweat and tears. Instead, we found ourselves 'recharged' and even more energized because if all the things we have achieved through the gatherings and meetings. That made all the hard work worthwhile.
Describe your management style during the time when you were heading the YTL Group of companies?
Integrity is absolutely important to me in life and business. I live by my values and principles and I try my best to be consistent in that regard. It is the same whether running the day-to-day operations at YTL years ago or serving as Chairman today. I want our business to always build what is right for everyone and not just for ourselves. Of course, I want YTL to be innovative and grow as a group. But it is more important that we are honest, hardworking and resilient. If we have this integrity, we will be successful.
How has your role changed since your children assumed executive management positions within the Group?
I may be 87 but I still go into the office every day. In a family business, there is really no retirement. I have slowed down my pace, but I continue to look into the affairs of the Group. My children and I gather together whenever there are key business decisions we have to make. They appreciate my objectivity, not least, my opinions and advice. Apart from this, the Group's CSR (corporate social responsibility) activities keep me very busy.
How did you balance your role in MBAM and running your own companies? Was there any specific event(s) that you believe led to your appointment as President of MBAM?
As I have always said, MBAM is a community of people who share similar passions and goals, as well as challenges and hardships. We enjoy being together. We learn from each other and we support each other. I certainly didn't see being the President of MBAM as work, although the role was never easy. The construction industry faced tough times when I was serving as President, I guess it is this positive attitude I have that endeared me to MBAM.
What are the top 3 current issues affecting the construction industry that you are very concerned with?
I actually mentioned this in my speech at the 38th IFAWPCA Executive Mid-term Board Meeting. Like everyone, I am concerned by unstable commodity and energy markets that have affected property markets. I am not sure how long this instability is going to continue. Naturally, this affects out engineers and builders. I am also concerned for their well-being. Finally, in the same speech, I mentioned how excited I am that the industry over the years has boomed and that we have seen some wonderful feats of construction engineering.
However, I feel the advancement of the construction industry is not consistent across the industry. Especially in terms of ethics and standards. Engineers and builders still have much to do to support each other in getting things right. MBAM's role is more crucial now than ever.
What is your reaction to the recent sharp hike in the levy on foreign workers working in the construction industry?
This sharp hike in levy on foreign workers is sudden and a real challenge for us all. Industry leaders are right to raise this concern with the government. However, we are always going to have the problem of skilled workers. That is why I believe we need to think longer term and improve the construction skills of our own Malaysian workers. The industry needs to come together and support the government's efforts to broaden the construction industry's appeal amongst our own people, especially in the vocational colleges and schools.
Do you set aside time to relax on a daily basis? What are your favourite recreational pursuits?
When you reach my age, there is only one thing that truly matters. Relationships. I love spending time with my family and friends.
Have you been able to travel for pleasure with the family/friends rather than for business? What's your favourite destination and why?
Yes, I am cutting down my business travel, preferring trips with family and friends. As for where we go, it is only important as long as we all get to spend quality time together.
Given that your grandchildren have entered the workforce, what advice would you give the younger generation?
As I said earlier, integrity is absolutely important to me. They know that. My one advice to them is that when they reach my age, they should look back and truly say what they have done and achieved reflect integrity.