Gaya Island Resort's turtle number four's health steadily improving, named 'Ninja' in competition
YTL Hotels 29 April 2014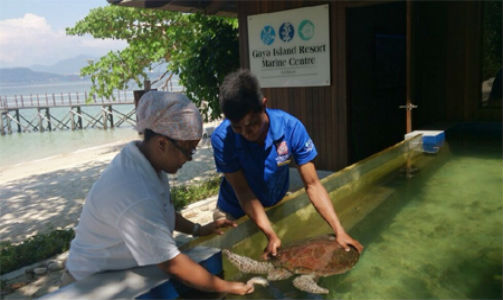 Sabah, Malaysia, April 29th, 2014
Gaya Island Resort Marine Centre's latest patient, Turtle Number Four was named 'Ninja' in a 10-day contest that included past, current and future guests of the resort. The juvenile Green Turtle was rescued on April 4th, 2014 when the Wildlife Rescue Unit's Dr. Nathan Sen contacted the resort's Turtle Hotline with news of a distressed turtle that was confiscated in the Papar region of Sabah's West Coast Division He then coordinated the malnourished and barnacle-covered Chelonia mydas's delivery to Gaya Island Resort.
Since arriving, the turtle has been treated with daily freshwater baths medicated with amoxicillin as well as antibiotics as prescribed by Dr. Diana Ramirez of the Wildlife Rescue Unit. In the past weeks, the centre has seen a steady increase in Ninja's appetite as it ingests baby shrimp and fish, as well as a decrease in the barnacles that covered the turtle's
underside – believed to be caused by it being kept in a cage before it was rescued.
The Resort's Marine Biologist Mr. Scott Mayback said, "Gaya Island Marine Centre is happy to have the turtle here with us so we can protect it and treat it," adding that the rescue of Ninja could not have been possible without the tireless efforts of Dr. Sen and the Wildlife Rescue Unit. While concerned of the wellbeing of Ninja, Gaya Island Marine Centre is
nevertheless grateful to be the temporary home to a living, breathing subject which documents the severity of the Green Turtle's plight in the waters of this region, enabling the team to build awareness.
Ms Fiona Lim, a Kuala Lumpur-based guest who was celebrating her birthday at the resort when she entered the competition, said that while naming Ninja was the fun part, the experience of speaking to Mr. Scott Mayback as well as actually seeing the turtle's physical situation was an emotional and educational process for her.
The Marine Centre will keep the turtle under observation and treatment for another 30 days and when healthy enough it will eventually be tagged by Dr. Nicholas Pilcher of the Marine Research Foundation before being released back into the wild. To follow its progress, guests can go to YTL Hotel's Facebook or visit the resort in the next 30 days. A special full-board Residents' Package is also offered to residents of Malaysia, Singapore and Brunei.
Gaya Island Resort Marine Centre is the first turtle rehabilitation centre in the country and has a strong commitment in rehabilitating turtles and building awareness in its resort guests in marine protection, also increasing interest in the importance of turtle conservation. The public is able to call the Turtle Rescue Hotline at +60 13 899 9509 should they spot a turtle in need of rescuing in Sabah.
To view videos of Ninja being treated, please click:
1) http://www.youtube.com/watch?v=UEYVvyzaKuQ Ninja graduates to a saltwater bath
2) http://www.youtube.com/watch?v=Wqlxm8jvg_o Feeding time for Ninja
3) http://www.youtube.com/watch?v=hE0ZK7AmPpk Ninja gets a freshwater bath
4) http://www.youtube.com/watch?v=QMfxyF0abcw Ninja starts to eat