Top Companies Honoured At Global CSR Awards 2017
Langkawi 1 April 2017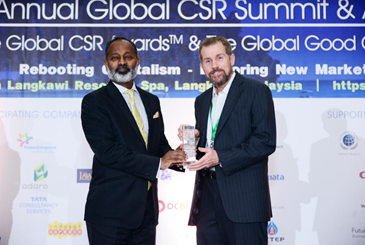 Langkawi, March 31, 2017
YTL Group was honoured at the Global CSR Awards 2017 with three awards recognising FrogAsia, YTL Hotels and PT Jawa Power's educational and environmental work. Senior industry executives, environmentalists, social activists and NGOs from Asia and the rest of the world attended the region's most prestigious and longest reigning event for corporate social responsibility and corporate governance, The Global CSR Summit & Awards and the Global Good Governance Awards 2017, now at its ninth successive year.
The event is recognized as the most prestigious and respected platform for recognizing excellent CSR and governance practices from companies and leading brands from the region and the rest of the world. The event also showcased presentations from over 20 influential speakers including award winning visionary thought leader Professor Martin Blake, Mr Ali Jaleel (CEO, Philips Malaysia) and Mr Chandran Nair, Founder of Global Institute for Tomorrow and author of "Consumptionomics: Asia's Role in Reshaping Capitalism and Saving the Planet," and Professor Ray Wills, Managing Director, Future Smart.
YTL won three awards, two platinum and one gold, for their CSR efforts. YTL's FrogAsia was awarded the Platinum Award in Excellent in the Provision of Literacy and Education Category for their Hubs by FrogAsia initatives, which provides quality training sessions on the Frog VLE and support to teachers across Malaysia. The programmes hosted at Hubs are completely free-of-charge for interested teachers. YTL Hotels was awarded the Platinum Award in the Best Environmental Excellence Category for their collective biodiversity conservation initiatives and programmes. And YTL's PT Jawa Power was awarded the Gold Award in the Best Environmental Excellence Category for their water conservation programme.
Against the backdrop of the theme, "Rebooting Capitalism –Exploring New Market Models", the speakers presented many perspectives and case studies on Asian, Western and hybrid developmental models that sparked much debate and enthusiasm amongst delegates. Keynote speaker Chandran Nair also commented during his speech that Western models of development have not always been successful and Asian countries should not blindly follow their path. Many Western models of development have not internalized the true cost of consumption, resulting in many environmental and social problems today.
Mr Melvin Chan, Co-Global Events Director of The Global CSR Summit & Awards commented: "The Global CSR Summit & Awards has withstood the test of time and has continuously been supported by respected companies from around the world including some of the Fortune 500 companies. The event holds the highest standards by being the few awards programme around the world that do not accept sponsorships from companies that want to submit their nominations for the awards. This sets us apart from all the other competing events in this space."
The awards presentation that took place after the Summit was graced by guest of honour, Mr Ramesh Kana, President UN Global Compact Network, Malaysia and our panel of judges namely: Mr Sreenivas Narayanan, Group MD for ASSIST Asia, Ms Terry Leong, World Vision Malaysia, Dr Geoffrey Williams, Managing Partner, William Consultancy Sdn Bhd, Professor Martin Blake, CEO,Blake Advisory Pte Ltd and Professor Ray Wills, Managing Director, Future Smart.
Out of 146 entries received from all over the world, a final selection of 38 companies was awarded top honours in the 16 main award categories namely: Best Country Award, Best Community Programme, Best Environmental Excellence, Excellence in Provision of Literacy & Education, Empowerment of Women, Best Workplace Practices, Product Excellence, CSR Leadership, Best CEO, Best Corporate Communications & IR and Best Governed & Most Transparent Company.
The award ceremony was held after the conference & exhibition which witnessed over 30 international speakers presenting best practices in CSR.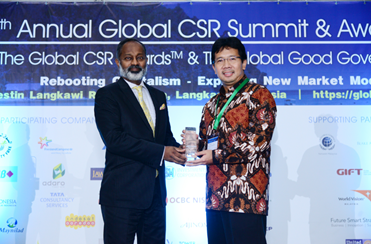 The results of the 9th Annual Global CSR Awards 2017 and the Global Good Governance Awards are:
Annual Global CSR Awards 2017
Best Community Programme Award
Companies with market capitalisation more than USD 1 Billion
Indosat Ooredeo (Platinum)
Bangchak Petroleum (Gold)
Sarawak Energy (Gold)
Tenaga Nasional (Gold)
Bank Indonesia (Silver)
Manila Water (Silver)
PT Donggi Senero LNG (Silver)
Oceana Gold (Bronze)
Bank BTPN (Bronze)
Maybank Foundation (Bronze)
Companies with market capitalisation less than USD 1 Billion
PTTEP Malunda Limited (Platinum)
DHL Vietnam (Gold)
Ajinomoto Malaysia (Silver)
PT Bank Maybank Indonesia (Bronze)
Best Environmental Excellence Award
Companies with market capitalisation more than USD 1 Billion
Infosys India (Platinum)
PT Adaro (Gold)
Bank Indonesia (Gold)
Oceana Gold (Silver)
PT Pertamina (Silver)
Dubai Duty Free (Bronze)
Companies with market capitalisation less than USD 1 Billion
YTL Hotels and Properties Sdn Bhd (Platinum)
PT Jawa Power (Gold)
Excellence in Provision of Literacy & Education Award
Companies with market capitalisation more than USD 1 Billion
Indosat Ooredoo (Platinum)
Bank Indonesia (Gold)
XL Axiata (Gold)
Megaworld Foundation (Gold)
PT Donggi Senero LNG (Silver)
Samsung Southeast Asia & Oceania (Silver)
CIMB Niaga (Bronze)
Companies with market capitalisation less than USD 1 Billion

FrogAsia Sdn Bhd (Platinum)
Maynilad Water (Gold)
Samsung Indonesia (Silver)
Empowerment of Women Award
Bank Indonesia (Platinum)
PT Donggi Senero LNG (Gold)
Kulim (Malaysia) Berhad (Gold)
AXA Indonesia (Silver)
Indosat Ooredoo (Bronze)
Best Workplace Practices
DHL Express Philippines Corporation (Platinum)
Tenaga Nasional (Gold)
Oceana Gold (Gold)
Tower Bersama (Silver)
Indosat Ooredoo (Silver)
Kulim (Malaysia) Berhad (Bronze)
Product Excellence Award
Indosat Ooredoo (Platinum)
CSR Leadership Award
Companies with market capitalisation more than USD 1 Billion
PT Hero Supermarket Tbk (Platinum)
PT Adaro Energy Tbk (Gold)
Dubai Duty Free (Gold)
FrieslandCampina Asia (Silver)
Indosat Ooredo (Silver)
Kulim (Malaysia) Berhad (Bronze)
Companies with market capitalisation less than USD 1 Billion
Tech Mahindra Foundation (Platinum)
Tata Consultancy Services (Gold)
Dubai Customs (Silver)
Best Country Award for Thailand for Overall CSR Excellence
Bangchak Petroleum Public Company Limited (Platinum)
Best Country Award for Indonesia for Overall CSR Excellence
PT Hero Supermarket Tbk (Platinum)
Global Good Governance Awards
Best CEO
Bangchak Petroleum Public Company Limited (Platinum)
Best Corporate Communications & IR
SM Investment (Platinum)
Frasers Commercial Trust (Gold)
Dubai Customs (Silver)
Indosat Ooredoo (Bronze)
Best Governed & Most Transparent Company
SM Investments (Platinum)
Frasers Commercial Trust (Gold)
RHB Banking Group (Silver)
OCBC NISP (Bronze)