Queen Elizabeth II's 90th Birthday Celebrated With Style and Grandeur
Kuala Lumpur 1 May 2016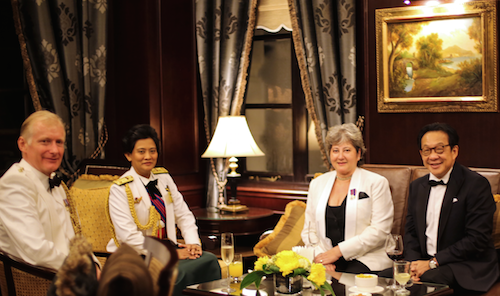 Kuala Lumpur, April 29, 2016
The British High Commission Kuala Lumpur held a grand reception in YTL's The Majestic Hotel Kuala Lumpur to celebrate the birthday of Her Majesty Queen Elizabeth II. The event, hosted by the British High Commissioner to Malaysia Her Excellency Vicki Treadell CMG MVO, commemorated The Queen's 90th birthday, and marked her 64 year reign which made her the longest reigning British monarch and Head of Commonwealth.
Tan Sri Dr Francis Yeoh said: " We at YTL are very proud and honored to sponsor this very special celebration tonight. We can only ever understate the virtues of Her Majesty Queen Elizabeth II. She more than lived up to the dictum 'rex non potest peccare, the king can do no wrong.' May our Lord Jesus continue to bless her always."
Her Excellency British High Commissioner Vicki Treadell's speech paid homage to The Queen as someone who has spanned history and played a part in its making, and praised the relationship between the UK and Malaysia. She also paid special thanks to YTL Corporation and the Yeoh family for sponsoring the event.
"The Queen has been part of the UK and Malaysia's journey together as two nations. Today, our relationship is one of partnership, underpinned by strong two-way trade and investment education links, collaborations in scientific research, defense and security engagement.
In more recent decades we have seen groundbreaking Malaysian investment in Britain go from strength to strength whether in retail brands like Laura Ashley or in utilities like YTL's Wessex Water or the regeneration of our city centres like Battersea's transformation from a derelict and redundant site to a vibrant new destination in London. Our ties have never been deeper nor broader. Today we are partners in a modern age."
Gracing The Queen's Birthday Party this year as the Guest of Honour and representative of the Malaysian government, was Y.B. Dato' Sri Mustapa Mohamed, Minister of International Trade and Industry Malaysia. He joined Treadell in toasting to The Queen's health and longevity. Other guests in attendance were YAM Dato' Seri DiRaja Tan Sri Tunku Puteri Intan Safinaz binti Tuanku Abdul Halim Mu'adzam Shah from the Kedah Royal family, YAM Tengku Datin Paduka Setia Zatashah Sultan Idris Shah from the Selangor Royal family, senior government officials, foreign dignitaries, business leaders, civil society representatives, celebrities, socialites, scholars and alumni.
Guests were transported to London where the foyer of the ballroom at YTL's The Majestic Hotel KL was transformed to resemble the Buckingham Palace, complete with the traditional Queen's Guard in attendance, a cardboard cutout of the iconic red double decker bus, and the quintessential red telephone booth against a backdrop of the London Bridge. In conjunction with the global Shakespeare Lives campaign, guests were also treated to a subtle mob when actors sprung out of the crowd to present short recitals of Shakespeare's famous lines.
And although The Queen was not physically present at the reception held in her honour in Kuala Lumpur, she made a "guest appearance", waving to guests on the big screen from the balcony of Buckingham Palace. The Queen's official birthday falls on 11 June.