Ruth Yeoh recognised as Malaysia's Top 30 Green Catalysts 2014 at GreenTech Awards
GreenTech Malaysia 30 January 2015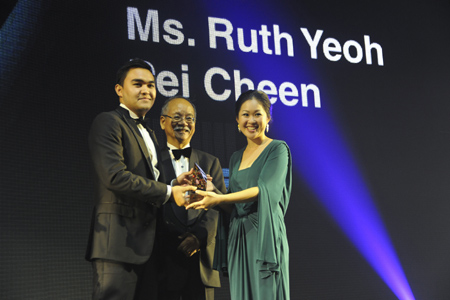 Kuala Lumpur, January 30, 2015
Malaysian Green Technology Corporation (GreenTech Malaysia) recently organised the GreenTech Awards to recognise and honour Malaysia's Top 30 Green Catalysts for 2014 comprising individuals and organisations who have had significant environmental, economic and social impact in expanding the country's Green Technology sector.
The award ceremony hosted over 500 notable green technology leaders from across various sectors including the Energy, Building, Transport, Water and Waste Management. The GreenTech Awards Gala Dinner was graced by the guest of honour, His Highness Crown Prince of Selangor, Tengku Amir Shah Ibni Sultan Sharafuddin Idris Shah Alhaj.
Speaking about the awards, GreenTech Malaysia's Chief Executive Officer, Ir. Ahmad Hadri Haris said, "The contributions of Malaysia's Top 30 Green Catalysts for 2014 have demonstratively made a significant impact in raising awareness on sustainability, conservation, and the growth of the green technology sector, economically and socially."
"It is essential for us to create synergies among the industry players to collectively promote and grow the green technology sector. We need to work in partnerships to capture the huge opportunities that green technology offers and unlock the sector's true potential," he added.
This year, the GreenTech Awards were divided into two categories, Personalities and Corporations, acknowledging the many efforts put in by both individuals and organisations who are committed to ensuring Malaysia's long-term ecological sustainability and the growth of Green Technology sector towards achieving the national Green Technology agenda.
Malaysia's Top 30 Green Catalysts 2014 included Gurmit Singh (CETDEM), Ruth Yeoh Pei Cheen (YTL Corporation), Y.Bhg Tan Sri Datuk Eddy Chen (MKH Berhad), and Tan Cheng Li (The Star) who are among the 8 personalities, as well as from the corporations including Polis DiRaja Malaysia, Malakoff, Penjana Bebas, Green Building Index, Majlis Perbandaran Subang Jaya, Tan Chong Motors, Bandar Eco-Setia, Maybank Berhad and Panasonic Malaysia. The award recipients walked away with the custom-designed GreenTech Awards trophy that symbolises the wide-ranging forms of green technology, one that is vibrant with limitless possibilities and exciting potential for progress.
Ir. Ahmad Hadri said, "Through honouring past and present successes, the GreenTech Awards aim to be a source of inspiration for the future generation to emulate. For while they are the youth of today, they will be the leaders of tomorrow taking over the baton from us to continue to champion the national green agenda."
"As such, GreenTech Malaysia is committed to make the GreenTech Awards an annual affair to continually encourage innovation within the industry and spawn new green champions," he added.
Throughout the black-tie event, attendees of the GreenTech Awards were treated to soulful music from Poova, an enchanting classical performance by renowned Datuk Ramli Ibrahim and the Sutra Dance Theatre, as well as a dazzling soprano performance by Syafinaz Selamat.
One of the prominent award recipients, Ruth Yeoh, Executive Director of YTL said, "On behalf of YTL, I am very humbled and honoured to be named amongst Malaysia's Top 30 Green Catalysts 2014. Sustainability is key to the long term success of every business and it is very encouraging to see such efforts across various industries in Malaysia duly recognised by the GreenTech Awards tonight."
The GreenTech Awards is one of the many initiatives championed by GreenTech Malaysia to catalyse the Green Technology agenda in line with the aspirations of the National Green Technology Policy 2009. For more information about the GreenTech Awards and GreenTech Malaysia, please visit www.greentechmalaysia.my.
ADDENDUM: MALAYSIA'S TOP 30 GREEN CATALYSTS
Award Recipients - Personality
Gurmit Singh
Centre for Environment, Technology and Development Malaysia (CETDEM)
"The first President of Environmental Protection Society of Malaysia (established in 1974) and served the Society for 20 years. A renowned environmental activist who diligently walks the talk."
Ruth Yeoh Pei Cheen
YTL Corporation Berhad
"Instrumental in establishing the Sustainability Division within YTL Group, and for her active roles in promoting better awareness on impact of climate change and sustainability across the region."
Y.Bhg Puan Sri To' Puan Datuk Shariffa Sabrina Binti Syed Akil
Pertubuhan Pelindung Khazanah Alam Malaysia (PEKA)
"A strong advocate of the environment, and for her tireless efforts and commitments to sustain our mother nature and the environment."
Y.Bhg. Tan Sri Datuk Eddy Chen
MKH Berhad
"The driving force behind MKH Berhad and a strong advocator of green-certified homes. Played a significant role in promoting green initiative within REHDA."
Tan Cheng Li
The Star
"A passionate environmentalist who since 2000 has been writing compelling reports on topical issues, raising public awareness on the state of our environment and to encourage Malaysians to adopt sustainable practices."
Linda Archibald
The Malaysian Reserve
"A strong advocate of Malaysia's green agenda, constantly providing in-depth analysis on the challenges and opportunities faced in transforming Malaysia into a Green Community."
Che Wan Mohd Badrul Amin bin Che Wan Alias
Berita Harian
"A prolific writer who has been quick to realise the crucial need for Malaysia to migrate to electric mobility."
Puteri Nur Alia binti Mohd Jasin
RTM
"A strong supporter of green technology with a particular focus on policies and plans that encourage further growth within the sector."
Award recipients – Corporate &
Polis DiRaja Malaysia
"For being the role model to other Government agencies, and being the first to publish and adopt the Green Practices and Green Technology Application Blueprint."
GreenBuildingIndex Sdn. Bhd.
"A key driving force in transforming Malaysian buildings to be more eco-friendly, and for achieving the significant milestone of 100 million square feet of certified green buildings."
Majlis Perbandaran Subang Jaya
"An exemplary city council with a clear vision to transform into a Green City by 2030, and for implementing significant actions within the Low Carbon Cities Framework and Assessment System."
Tan Chong Motors Sdn. Bhd.
"A key catalyst for Malaysia's Electric Mobility market for having introduced Nissan Leaf, Renault Zoe, Twizzy and Fluence, and playing an instrumental role in building Malaysia's EV charging stations and network."
Maybank Berhad
"A strong partner of the Green Technology Financing Scheme, funding 16 green projects amounting to RM245 million as at end of 2014."
Bandar Eco-Setia Sdn. Bhd.
"A pioneer in developing sustainable townships, and being the first to design and develop homes with solar building-integrated photovoltaics, surrounded by eco-friendly landscaping."
Panasonic Malaysia Sdn. Bhd.
"A strong supporter of the IGEM, and a key innovator in promoting green living by providing Malaysians with energy efficient electrical appliances and the eco-friendly PanaHome series."
Malaysia Airports Holdings Berhad
"For its bold initiative to incorporate solar photovoltaic technology at the Kuala Lumpur International Airport (KLIA), and incorporating green features at the new KLIA2."
PenjanaBebas
"Instrumental in initiating the Green School Campaign, and enabling solar photovoltaic systems to be installed at more than 100 schools around the country."
Malaysia Debt Ventures Berhad
"A strong promoter of Islamic financing for Green Technology, and a catalyst in enabling green projects with 16 projects amounting to RM191 million as at end 2014."
Malaysian Resources Corporation Berhad
"A leading proponent of sustainable commercial buildings meeting international green standards, particularly within the KL Sentral area."
Gading Kencana Sdn. Bhd.
A role model renewable energy services company that was first to make a foray into the solar lights market, and subsequently made headway into large-scale solar PV systems with MegaWatt installations."
KFM Holdings Sdn. Bhd.
"A solution provider for a green, smart and connected built environment. Played an instrumental role in transforming Malaysia's Prime Minister Office building into a Platinum rated Green Building."
Harta Maintenance Sdn. Bhd.
"A total solutions provider for building maintenance that has been committed for over 30 years to strictly use only green products that protect and promote a sustainable environment."
PKT Logistics Group Sdn. Bhd.
"A Malaysian logistics service provider for the renewable energy sector, extending efficient and sustainable supply chain solutions to manufacturers and importers."
Tenaga Nasional Berhad
"The national utility has been a vital facilitator in the growth of the renewable energy and application of green technology. A key enabler of the Feed-in-Tariff (FiT) scheme."
Malakoff Corporation Berhad
"Promotes renewable energy via its Macarthur wind farm, the largest wind farm in the Southern Hemisphere, and encourages energy efficiency through its Energy Expert Series as well as other CSR programmes."
Cypark Resources Berhad
"An early adopter and promoter of renewable energy under the Feed-in-Tariff scheme, while rehabilitating landfills through the establishment of solar power plants in these areas."
Malaysian Solar Resources Sdn. Bhd.
"A growing local solar manufacturer since 2007, and a proven role model for other Malaysian green entrepreneurs."
Syngas Sdn. Bhd.
"A dynamic company focussed on developing economical and viable ways to convert waste produce into commercially usable products such as petroleum, diesel, kerosene, naphthalene, ethanol and methanol."